Active Audio
The company provides sound reinforcement solutions in acoustically difficult environments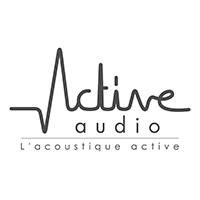 Since its creation in 2002, Active Audio has been above all a human adventure. An adventure first of all for Xavier MEYNIAL, Professor of Room Acoustics, who founded the company in 2002 to promote his work as a researcher, as well as that of the Acoustics Laboratory of the University of Le Mans. The DGRC patent was filed in 2005 and quickly gave birth to the StepArray range.
This is when Active Audio's DNA takes shape: our job is to provide sound reinforcement solutions in acoustically difficult environments. By mastering the issues related to room acoustics and a real investment in signal processing, Active Audio develops, perfects and manufactures products dedicated to the intelligibility of the spoken voice.
The story continues with the entry into the capital of Régis CAZIN, who takes over the management of the company and provides it with the means to develop products more quickly. Active Audio is growing, developing its exports and offering products that are increasingly recognized by its customers, with the Ray-On range in mind.
In 2014, Jacques MAHUL, founder of the Focal-JM LAB group, joined the adventure. New boost for Active Audio, new products, new strategic alliances.
Today, the Active Audio brand is distributed in more than 30 countries and the network is growing year by year. Here again, it is human adventures that make it possible to move forward: Active Audio relies on a network of recognized distributors operating in true partnership with them.
In 2016, Active Audio acquired a majority stake in the capital of APG, thus strengthening its position on the market and its offering.
Active Audio is part of Arbane Group, along with APG.
"I believe 3WM Communications will add value to any organisation as they are able to provide a birds-eye view of what is happening in the industry and propose plans to benefit from a company's competitive advantage over competitors."
"We were quickly impressed with 3WM Communications and their international skills, their work and their dedication.
It is a real pleasure to work with them."