Revolutionary New Year's Eve Event Amasses Over 1 Million Views
Maxin10sity joined forces with Modern Enterprises for a virtual 'sky mapping' show that was seen around the world.
Budapest (Hungary), 5th January 2021 – When Seattle, Washington was forced to adapt its customary New Year's Eve celebrations due to the ongoing disruption caused by Covid-19; necessity, once again, proved itself to be the mother of invention.
The result – a collaboration between event production company, Modern Enterprises LLC, and projection mapping specialist Maxin10sity – was a revolutionary 'sky mapping' show that saw virtual lights, projection, and special effects superimposed on live footage of the city's most iconic landmark, the Space Needle, and the sky above.
As is the case with so many ground-breaking ideas throughout history, the concept of 'sky mapping' came to CEO and founder of Modern Enterprises, Terry Morgan, in a dream.
"It was so vivid and colourful that I woke my wife up to tell her all about it," said Morgan. "Later – when Karen Olsen (chief marketing officer at the Space Needle) was telling me that they were unable to do their usual kind of event with fireworks and a large crowd – I told her about my 'sky mapping' dream, and she loved the idea."
Morgan went straight to one of his regular collaborators, Maxin10sity, with a mood board and a handful of images, in the hopes that the two companies could work together once again to make his dream a reality.
"I've worked with Tamás Vaspöri (managing director at Maxin10sity) for years and have always been so impressed by what we were able to create together; namely the BOREALIS Festival of Light here in the US, which debuted to a wonderful crowd of over 120,000 people," said Morgan.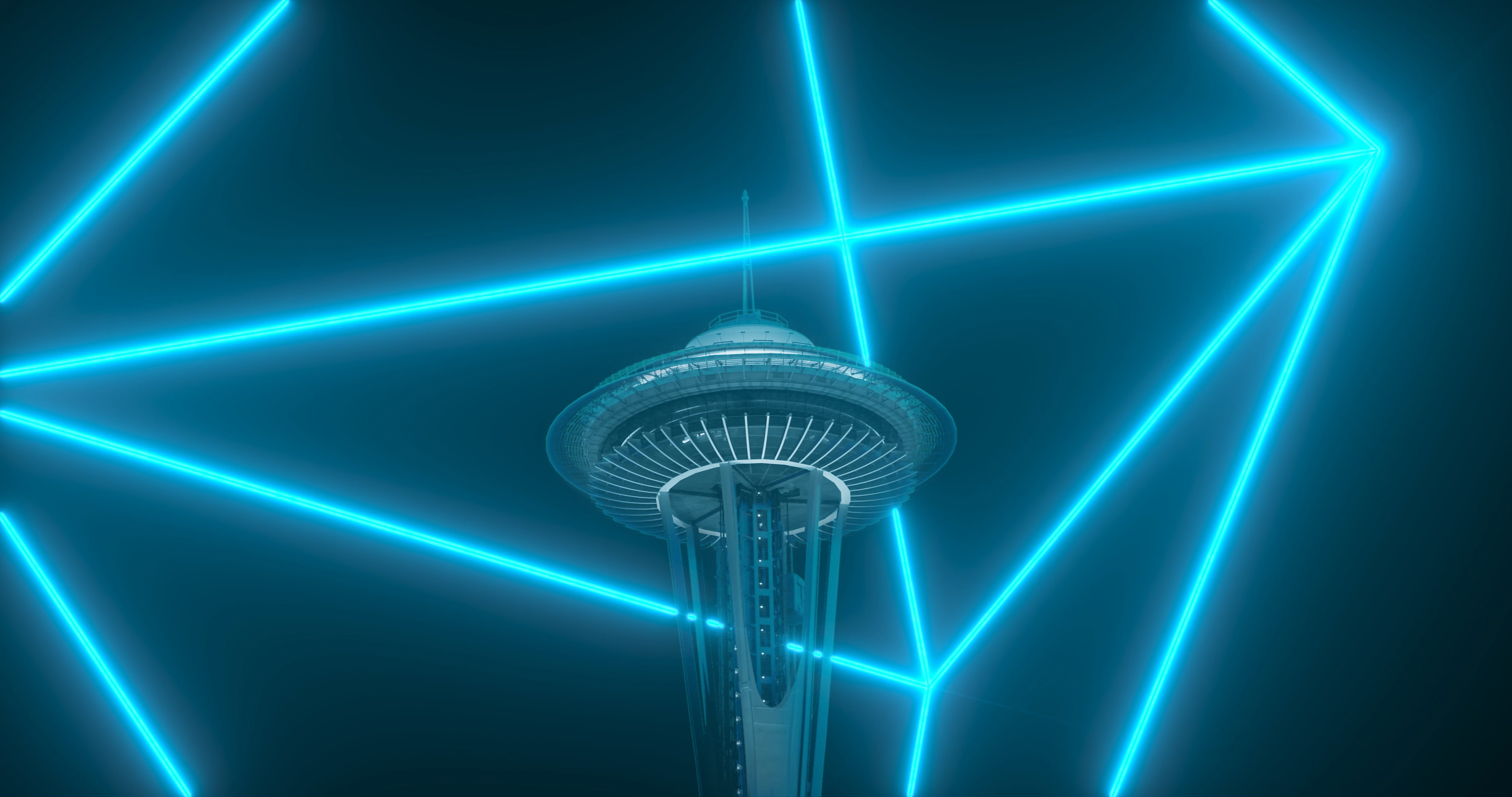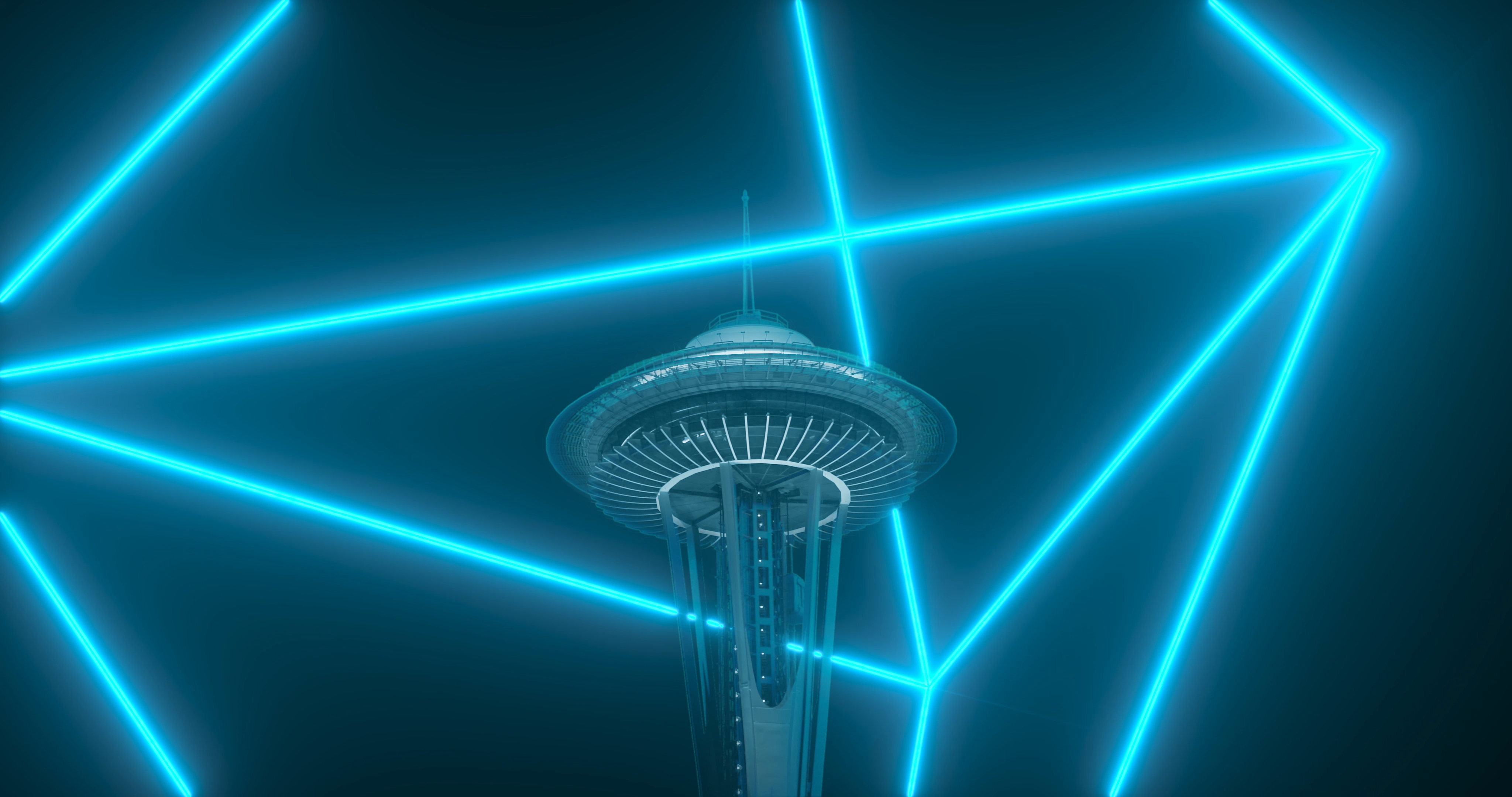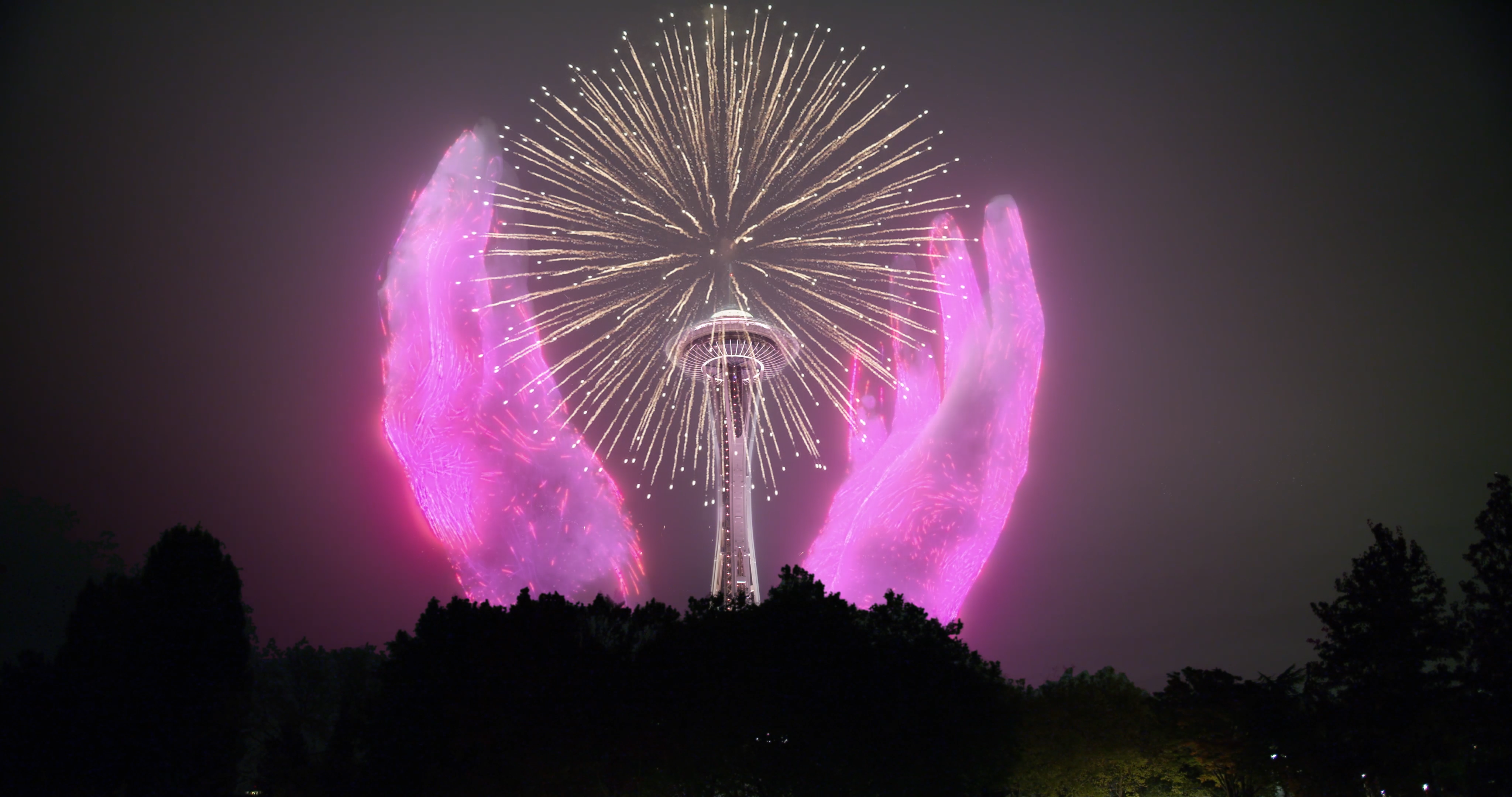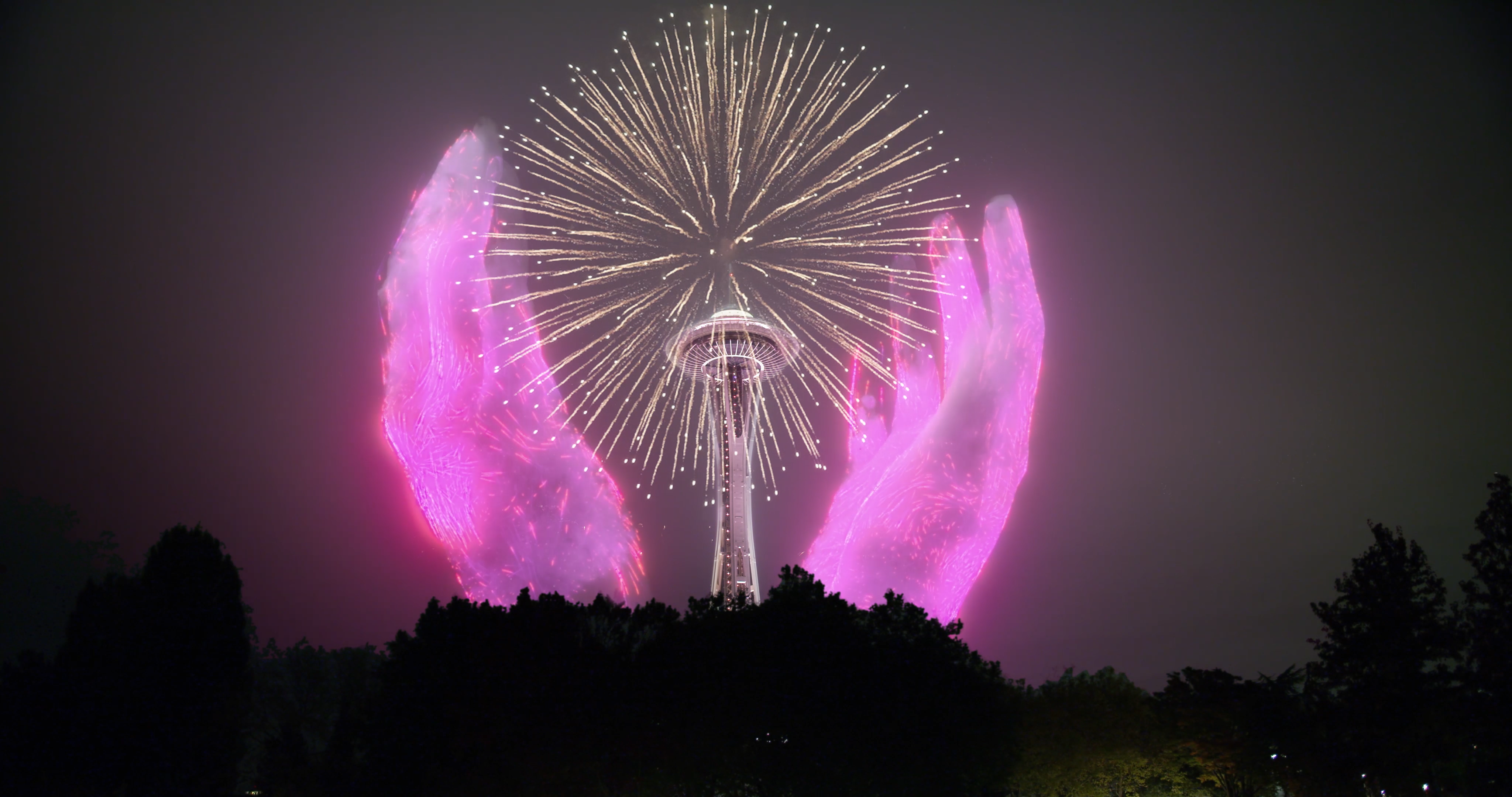 Although the New Year's Eve sky mapping show – fittingly named The Dream – had its own advantages (such as the absence of civic considerations like security, power, crowd control, and portable toilets) the team still only had two months to realise this unprecedented concept; mapping projections, lights, and special effects on the sky itself.
"There are challenges in all productions but, because this show is something new, we had to be very prepared and think through everything twice," said Vaspöri. "We had to work a bit more on the storyboard but, when it was done and approved by the client, we could move on as normal from an animation / production point of view."
He continued: "The fact that it was going to be a virtual show for broadcast actually gave us much more freedom. We wanted to do something that would blur the lines between the virtual and the real, to the point where people might not be able to decide which was which. We spoke with Terry a lot about his dream; always keeping in mind what would look best on screen and how we could draw the audience in and give them a real 'wow' factor."
The show itself was to be a combination of subtle key lighting effects and more bombastic, almost surreal, moving images. All of this had to be created side by side to ensure that the illusory visuals were as convincing as Vaspöri had envisioned them.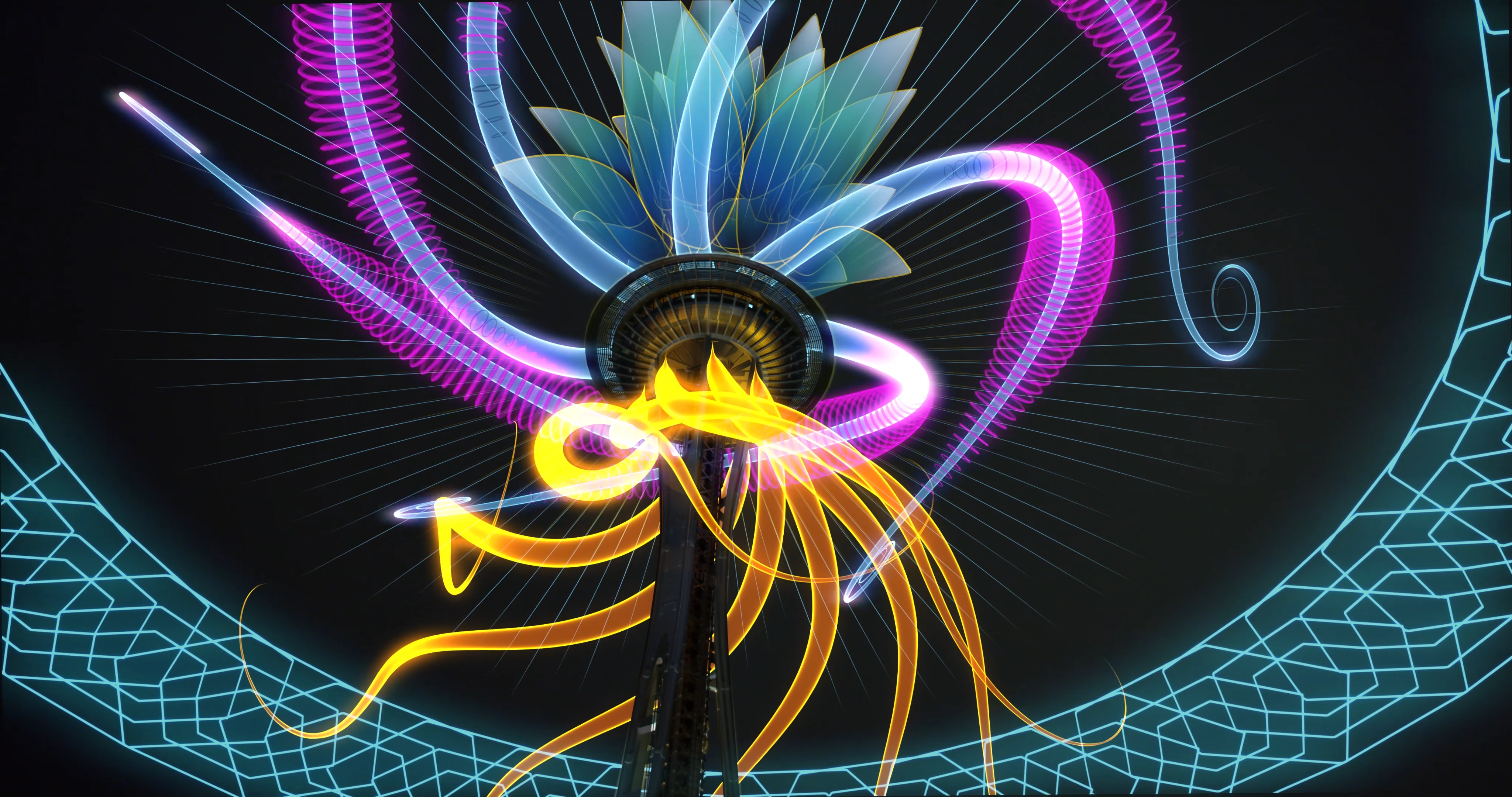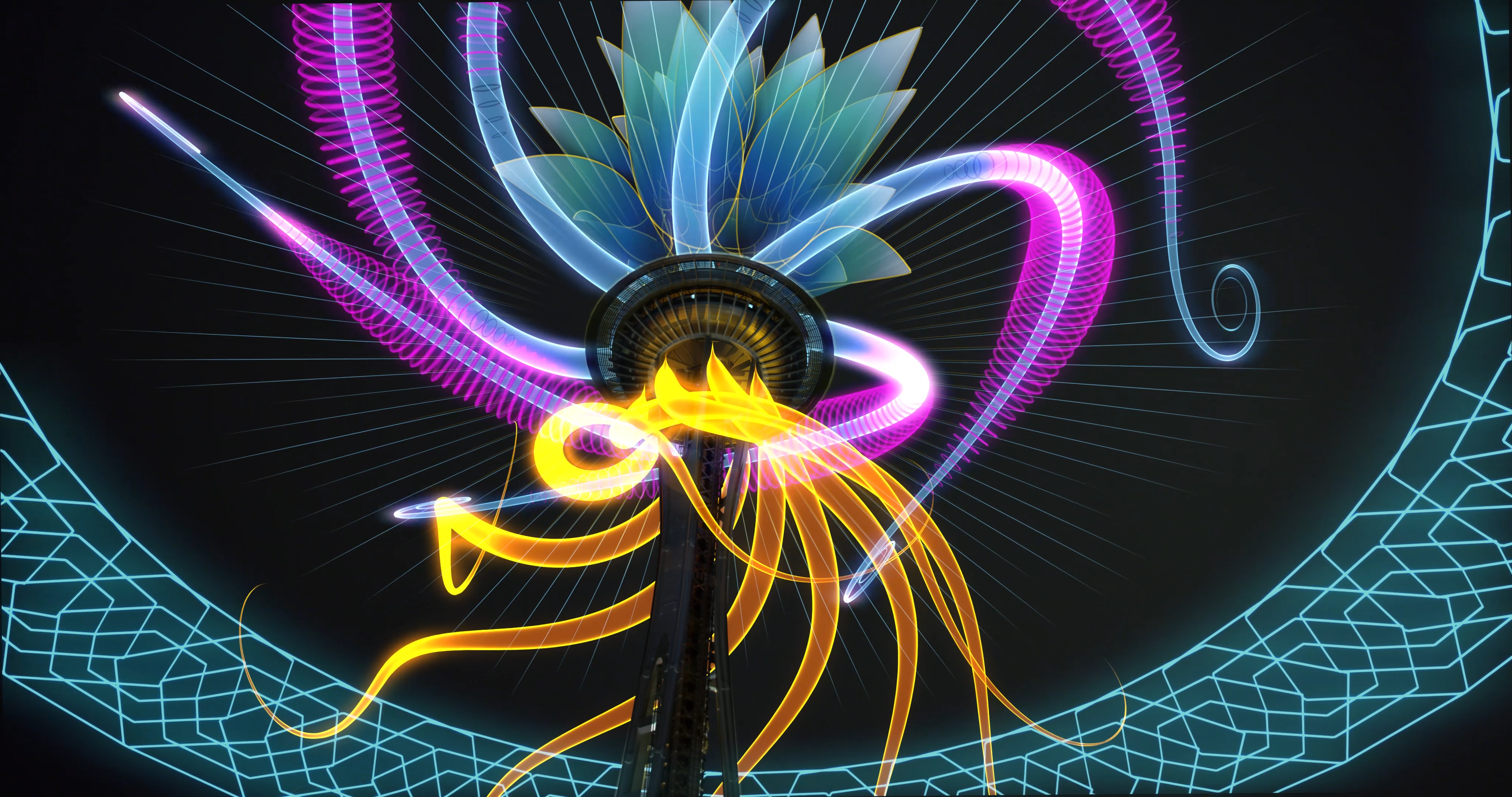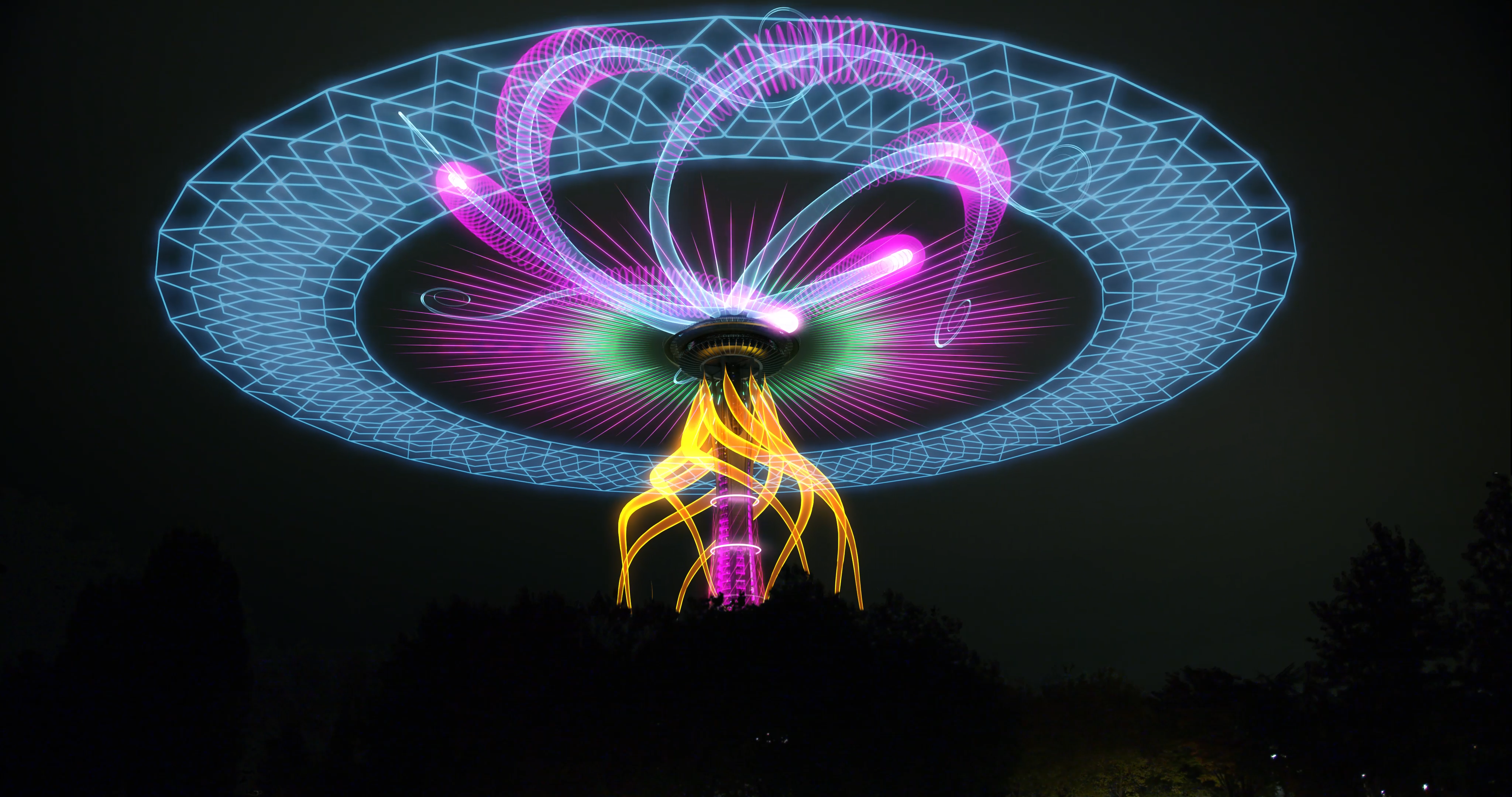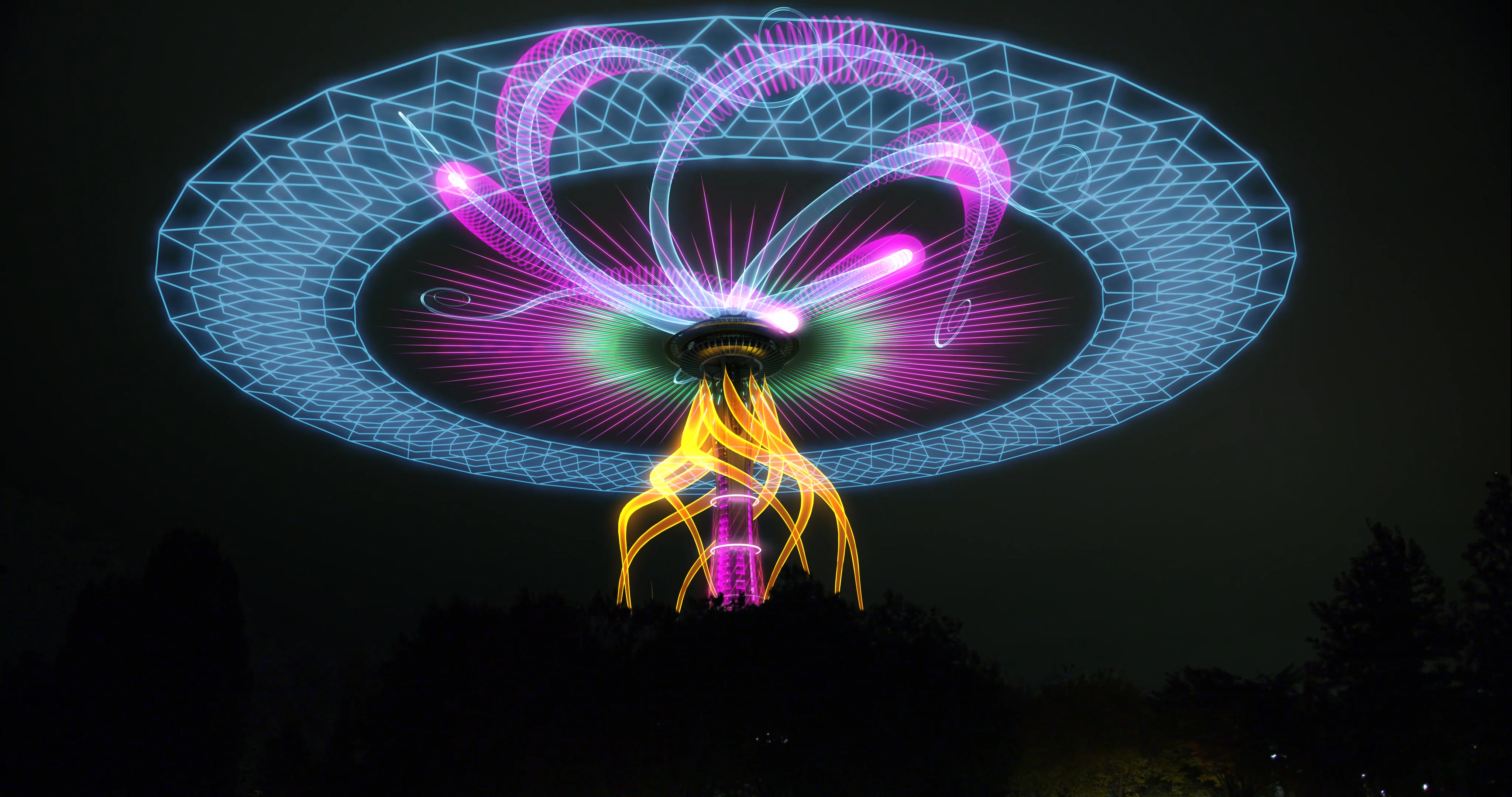 Another key aspect of The Dream was the accompanying music, which was provided by Daniel Sadowski; a specialist in creating soundtracks for movie trailers and video games.
"The music is a very important part of the production," said Vaspöri. "It is one of the key things that inspires our artists. We worked together with Global Illumination on the whole production, who we have worked with a few times in the past. The whole process was as smooth as always."
The camera shots for the show were filmed in advance using three 4K cameras shooting from three locations simultaneously. The entire sequence was run through twice to generate six different shot perspectives, which could then be intercut with some vertical and interior footage of the building.
"Despite how it appears, no drones were necessary," said Morgan. "All we needed were good cameras and good people to operate them."
The entire show was pre-recorded and broadcast 'as-live' from KING TV studios in Seattle, before being streamed worldwide. According to a spokesperson from the Space Needle, the show amassed more than 1 million streaming views (and over 1 billion online impressions) in the first 24 hours alone.
"There are a lot of challenges when you're doing something that has never been done before," said Morgan. "With the great support team of Maxin10sity, the Space Needle, KING 5 TV, and T-Mobile, we have moved mountains in a very short time to create a spectacular virtual New Year's Eve event like no one has ever seen before."
While the plaudits continue to roll in for The Dream, its almost unbelievable success begs a very important question: could this ambitious dream-come-true be taken one step further, into the real world? Maxin10sity's Tamás Vaspöri certainly thinks so.
"The beam lights and the mapping effects on the structure could be made today, no problem," he said. "We could project onto special mesh screens so the audience could see holographic effects and (with enough projector brightness) even project onto the clouds above. With this in mind, I would say real-life sky mapping is not too far away; it's just a question of the technology. Technology and time."
The full video of the New Year's Eve show can be found here: https://www.youtube.com/watch?v=RhbLeV2m0xE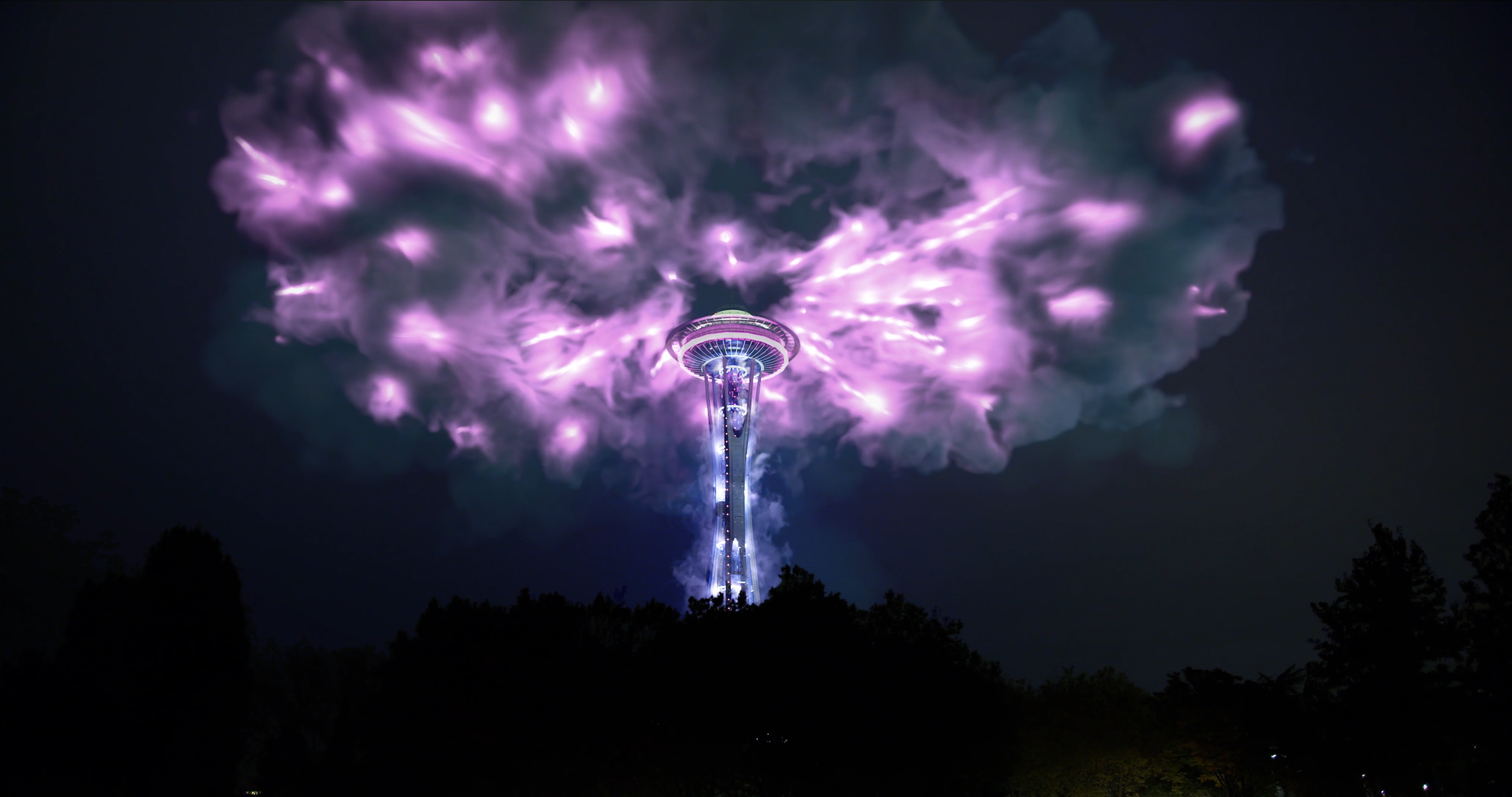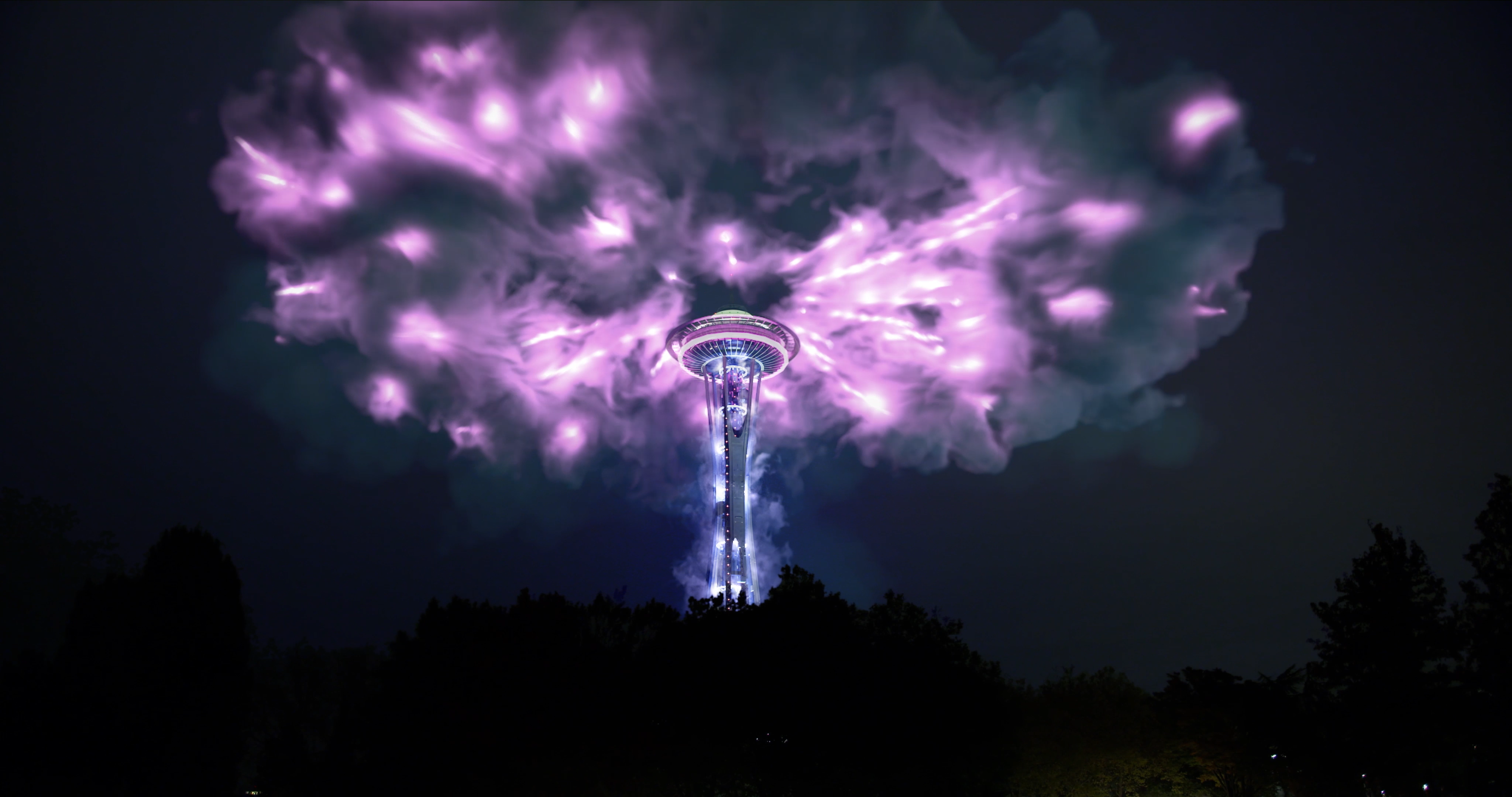 "I believe 3WM Communications will add value to any organisation as they are able to provide a birds-eye view of what is happening in the industry and propose plans to benefit from a company's competitive advantage over competitors."
"We were quickly impressed with 3WM Communications and their international skills, their work and their dedication.
It is a real pleasure to work with them."