AV Stumpfl adds to the roar of projection magic at dinosaur exhibition
Wallern (Austria), 10th August 2022 – To celebrate the 25th anniversary of the Hong Kong Special Administrative Region, its science museum is staging a large-scale dinosaur exhibition called "The Hong Kong Jockey Club Series: The Big Eight – Dinosaur Revelation".
 
Eight of the most iconic prehistoric creatures, original fossil material and fully intact skeletons are illuminated by a whole host of multimedia projection techniques and special lighting effects, blending the worlds of scientific research and unique scenography. Audiences are being offered immersive experiences to appreciate such a unique display.
 
Local system integrator, Cosmovision, was tasked with setting up multiple short-throw projectors – in both landscape and portrait orientation – onto a wave-shaped canvas structure. Jason Yeung, Cosmovision's technical sales engineer, expressed just how complex this project was, due to the irregularities of the set-up:
 
"The 10m x 7m wave-shaped canvas required a complex placement of equipment; we had to take into account overlapping areas to blend edges and eliminate any projection shadows," he says. "It was difficult, but using PIXERA's integrated Vioso camera calibration software, the calculations could easily be done automatically."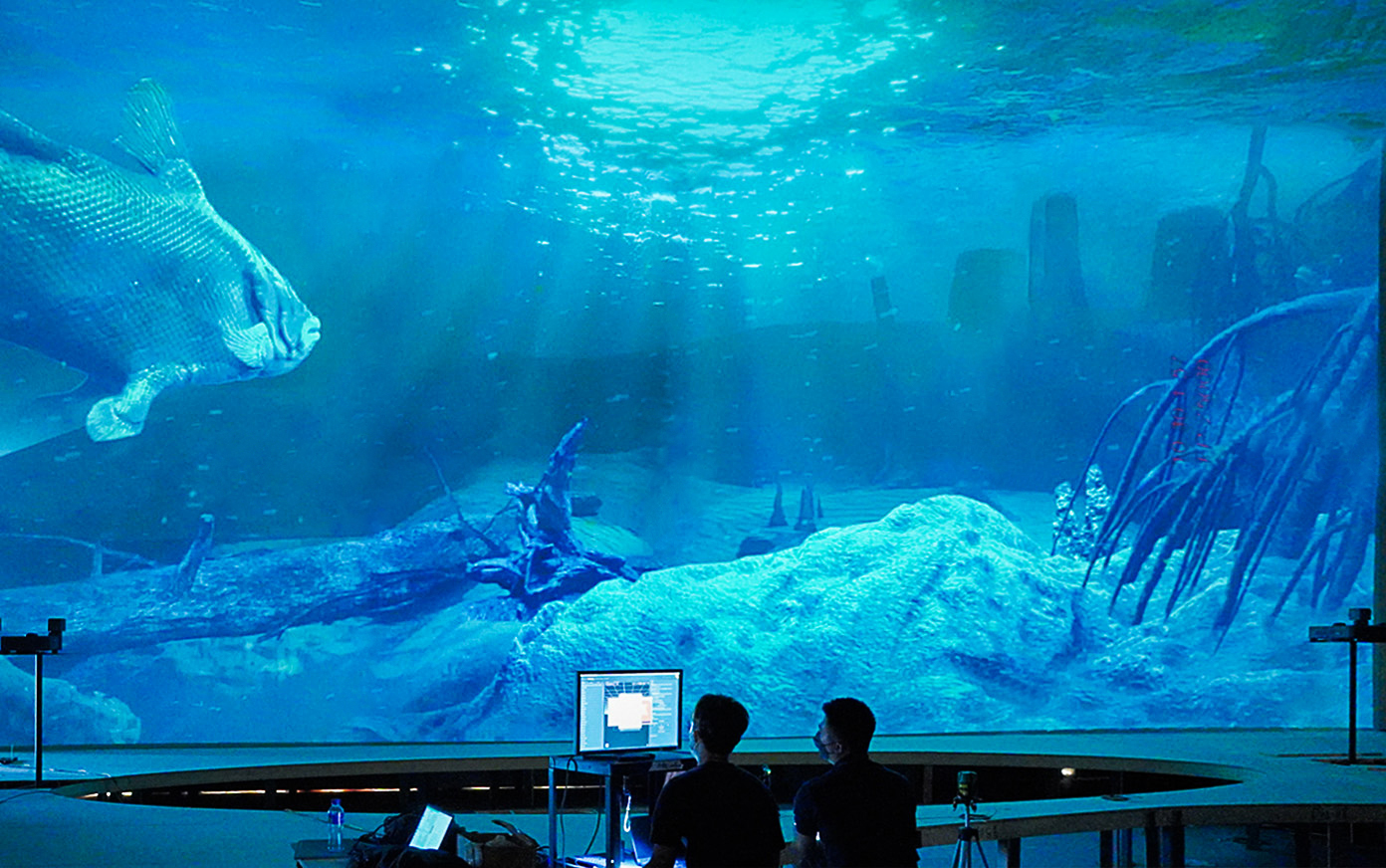 Two units of AV Stumpfl's PIXERA two QUAD media servers, deployed alongside multiple short-throw projectors (with rotating lenses), were Cosmovision's obvious choice for a highly demanding install like this.
 
The multi-award winning PIXERA media server system is an integral component of cutting-edge workflows that can feature ultra-high definition or even Unreal engine content and is available as a hardware based or software only solution.
 
"The client was extremely satisfied with the outcome of this install – it is such a pleasure to be part of this fascinating application, bringing quality AV equipment into museum environments takes the visitor experience to a new and exciting level," adds Yeung. "We can't wait to see what the future will bring as immersive experiences gain in popularity, with AV equipment being pivotal to taking visitors into a whole new world."
 
"The Hong Kong Jockey Club Series: The Big Eight – Dinosaur Revelation" will run from 8th July to 16th November at the Hong Kong Science Museum. Admission is free during the exhibition period.
 
Picture credit: Cosmovision
"I believe 3WM Communications will add value to any organisation as they are able to provide a birds-eye view of what is happening in the industry and propose plans to benefit from a company's competitive advantage over competitors."
"We were quickly impressed with 3WM Communications and their international skills, their work and their dedication.
It is a real pleasure to work with them."