GLP develops XDC1 and debuts 162 fixtures for Ed Sheeran's Mathematics tour
Vendors LCR work with GLP and designer Mark Cunniffe to deliver "brute of a fixture"
Karlsbad (Germany), 20th July 2022: Ed Sheeran's long-term production designer, Mark Cunniffe not only delivered his most expansive set design ever for the current +–=÷x (Mathematics) stadium world tour, but almost certainly his most innovative, with its roofless, in the round multi-mast presentation. It also marked the debut of 162 of GLP's new hybrid fixture, the XDC1 IP Hybrid, purposely designed for the tour and developed over most of the previous year. These were supplied by production vendor, Lights Control Rigging (LCR).
The XDC1 is not only IP65-rated, but is a supercharged version of the JDC1 hybrid strobe, offering a brighter, narrower beam and superior colour-mixing engine. Using the same RGBL LED technology as featured in the new impression X5 series, it will colour match with the complete X5 range.
Featuring a cornucopia of lighting and video, conventional trussing has been replaced on the tour by six ground-supported 32-metre-high masts, each featuring seven concentric rings, from which all the equipment is suspended. This includes the majority of the XDC1s, which are the single biggest effect in the production. On top of this is a 44-tonne halo on steel works, which carries the balance of the XDC1s, which shoot their powerful beams down onto stage from the very top.
Cunniffe explained, "I have always wanted to put Ed in the round, but it requires a different discipline. I have a problem with shows with structural pillars, so I went away and looked at how we could avoid the obstructions with a design that had never been done before."
He took the idea to Jeremy Lloyd of Wonder Works and Rasti Bartek at engineering consultancy, Cundall. "I asked whether it was feasible for a structure that needed to be put up in two-to-three days and taken down in one; because of the logistics involved in transport, we needed to produce three separate steel systems." The artist signed off the design once it had been rendered in VR. "He was bowled over," confirmed the designer, "and even though it represented a sizeable investment his management said 'let's do it'." This was back in 2019 before COVID hit—which gave the creative team time to finesse the design.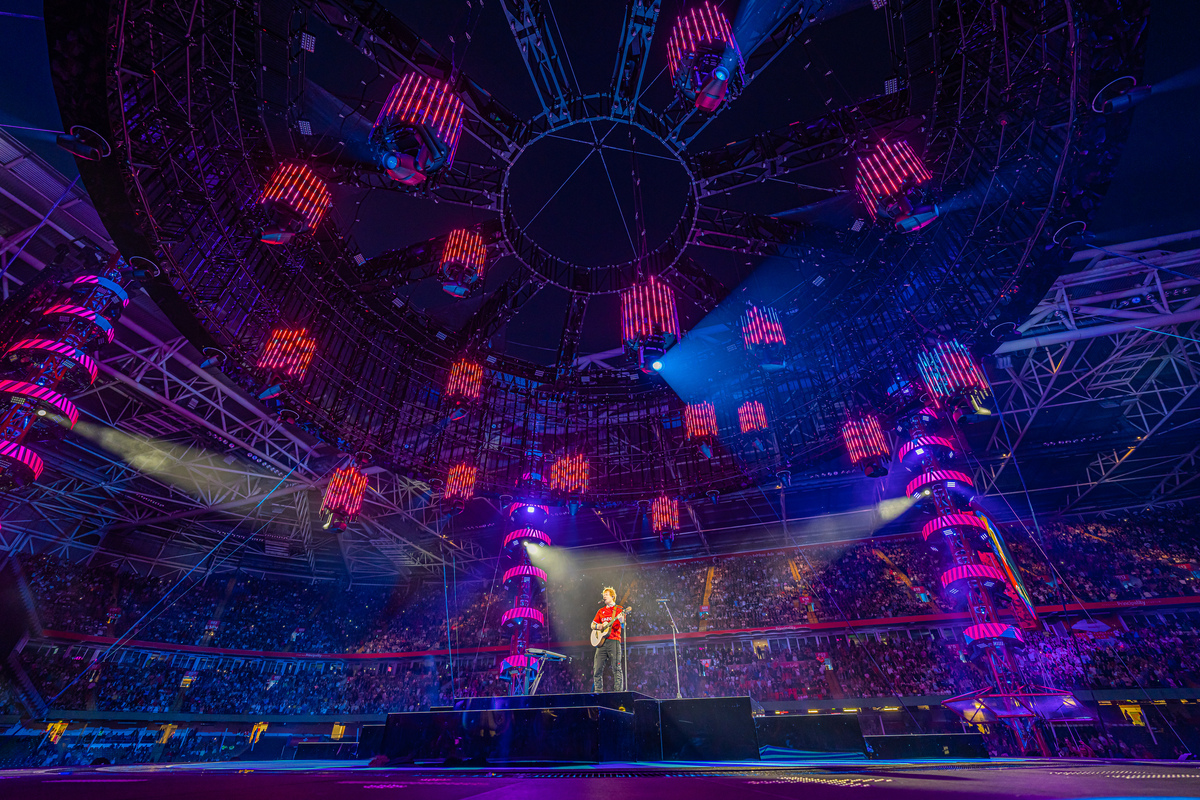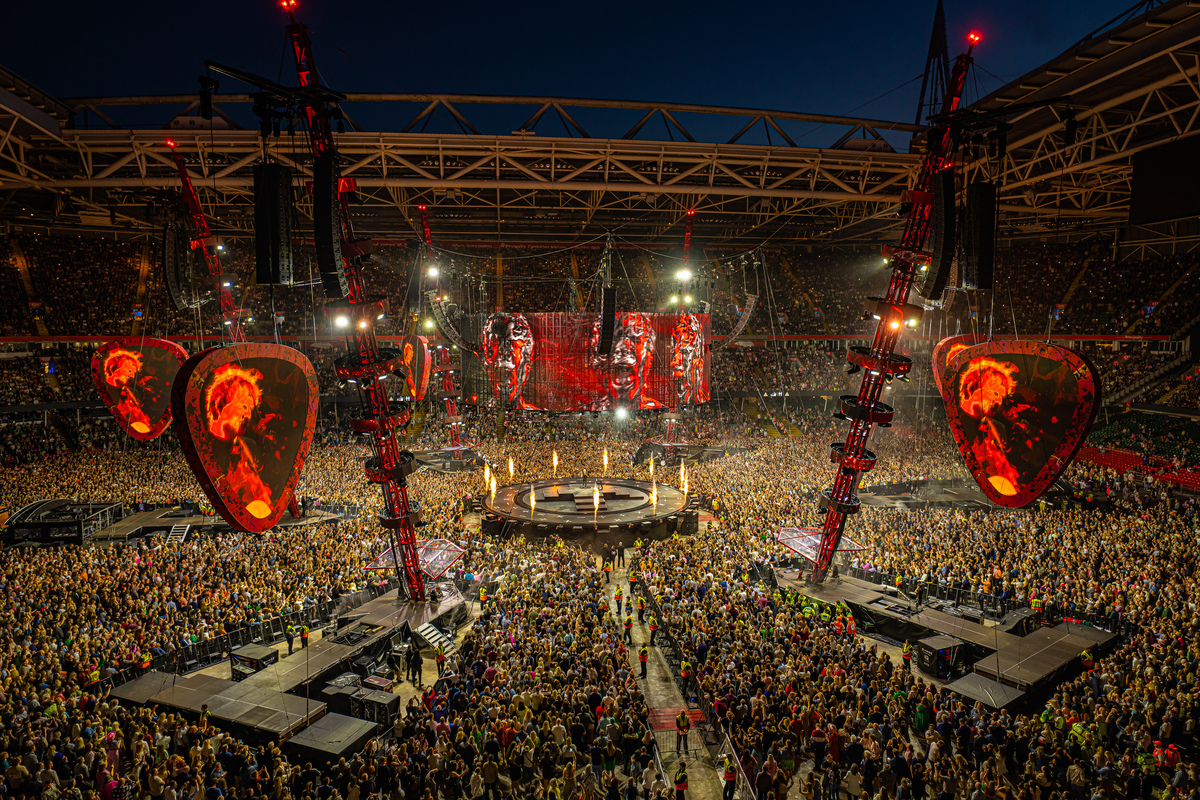 When planning his lighting spec, Mark Cunniffe's first consideration was that everything needed to be IP rated. Seeking a wide, colourful flood he approached Mike Oates and Ryan Hopkins at LCR, so often his go-to guys over the years, and they, in turn, approached GLP.
Hopkins takes up the story. "Mark is a dream to work with and if he has a requirement, we either find the correct fixture or as is in this case we approach a manufacturer to build the creative tool for him to use. The XDC1 was actually built at our request specifically for this tour. Mark gave us a brief for what was required—a mega bright strobe, colour changing blinder/wash section and the ability to pixel map through it.
"I knew immediately there was only one company I wanted to build this unit, and who had an excellent and proven track record for delivering fixtures like this. I also knew GLP would be able to turn it around within the unprecedented time and logistic constraints we were facing. We showed Mark a JDC1 which he loved but wanted something brighter with a tighter and more controlled beam on the pixels. We suggested a solution and Mark loved the idea."
By late March last year Dave Stewart at GLP's UK office had become involved, and receiving Ryan Hopkins' exacting wish list—including the type of lenses, LED, desired lumen output and DMX personality—approached the GLP team at HQ in Karlsbad, who were equal to the challenge and promptly went into overdrive.
After a good deal of remote working and Zoom calls through Covid, the first prototype was submitted to a delighted Mark Cunniffe in late summer last year and after further finessing, the final unit was ready for delivery in time for the tour.
The fixtures have entirely fulfilled the role Mark Cunniffe had in mind. "These are very much part of the signature look and the next generation," he says. "We run them in multi-DMX mode, which means in individual colours. We can map the colours to it, and if we have a strong video look, the strobe effects have no trouble at all hitting through it.
"The colour quantity is great, from soft pastels through saturates. In fact they worked incredibly well at Wembley with the house lights to extend the strobe fill from the masts."
Considering further, he says, "It's not so much a complex fixture but it's a brute of a fixture. It's got subtlety but it's also got impact." He commended LCR and GLP "on being able to deliver the brief." He also paid tribute to Sheeran's management for enabling this unique expression of the artform. "If it wasn't for the fact that [Sheeran] was prepared to pay for it none of this would have happened."
For their part, such was LCR's confidence in the XDC1 that they invested in 200 fixtures—the remainder for stock which he predicts fellow creatives will be lining up for.
"The XDC1 is a really great fixture. It's so punchy and the animation and beams achievable thought the RGBL pixels look amazing; the colours are bright, vivid and rich and the strobe is powerful way beyond its size. It's a fixture which will work indoors or outdoors 365 days a year, lighting a concert or a national landmark … it's very versatile and a true workhorse."
Other key members of the production team include Helen Himmons (production manager); Chris Marsh (production director/FOH engineer); Matt Jones (lighting operator), Ben Lapworth (video operator) and Alex Passmore (lighting programmer).
 
Photo credit: Ralph Larmann
"I believe 3WM Communications will add value to any organisation as they are able to provide a birds-eye view of what is happening in the industry and propose plans to benefit from a company's competitive advantage over competitors."
"We were quickly impressed with 3WM Communications and their international skills, their work and their dedication.
It is a real pleasure to work with them."