Magnum PA Invests in Powersoft T Series
The company has taken delivery of five T604 and four T602, and plans to add another three T602 in the near future in order to complete its inventory.
Florence (Italy), 17th May 2021  – Welsh rental house, Magnum PA has recently purchased a number of Powersoft's renowned T Series touring amplifier platforms after a consultation with trusted partner – and Powersoft distributor – CUK Audio. The company initially ordered four T604 and four T602, though it soon added another T604 and has since revealed plans to add another three T602 in order to complete its inventory. 
As well as their impressive sound clarity, T Series amplifier platforms can be controlled in a number of ways (either through ArmoníaPlus, via the front panel display, or using the dedicated webapp), and boast a large preset library.
The T Series offers input via Dante, AES3, or analogue, with the Dante and AES3 solutions being optimised for daisy-chained distribution of 2-channel audio. This enables routing to many amplifiers without the need for external switches, repeaters, or splitters, and, in turn, simplifies the process of setting up a typical networked system. This allows an amplifier to act as an analogue-to-Dante convertor, collecting analogue signals and allowing distribution to other amplifiers.
"I've known of Powersoft for years and was well aware of their famous high power per rack unit reputation," said Philip Hughes, managing director Magnum PA. "We had been looking for an option to streamline our main system racks for a while, but it was difficult to find an option that also met our requirements for Dante connectivity and failover. Although we didn't quite have the need for the power of the X4, as soon as we saw the T Series we knew we had found the perfect solution."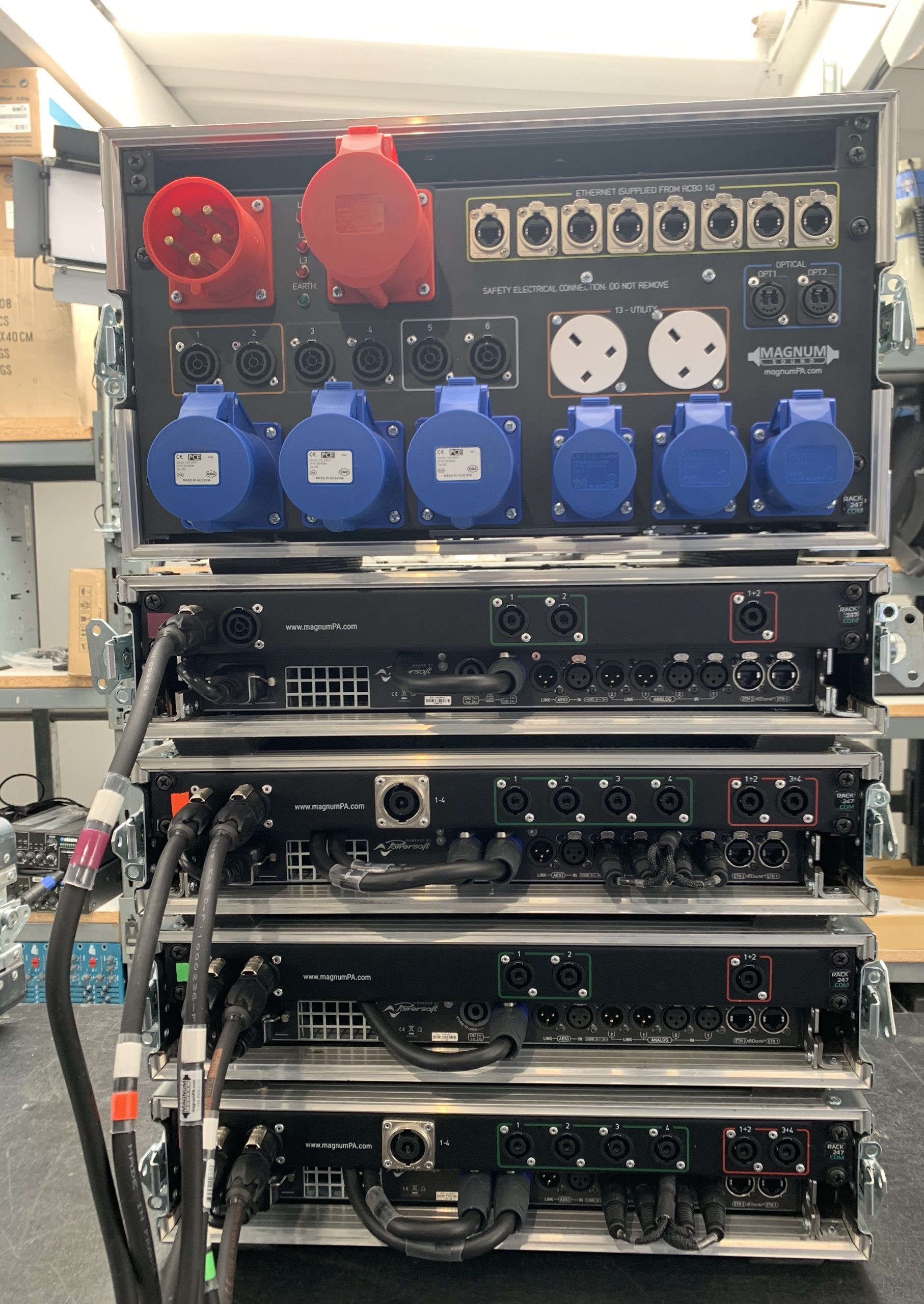 Hughes worked with CUK's James Lawford to confirm his assumptions of what the T604 and T602 could do for his main PA systems, and was eventually sold when Lawford mentioned the T Series would comfortably drive a 100V line system.  
"Part of our production work is in large-scale site-wide systems, and to be able to deploy the T Series across all of our projects was a fantastic prospect," said Hughes. "I also listened to a T604 on our hardest-working rig (the Logic Systems Ethos CA), which consists of two 8+1 fixed angle array boxes augmented by twin 15-inch subs. The difference between our previous DSP + 10kQ amp racks and the T604 was night and day, especially on the low end."
As well as Magnum PA's main Cardiff warehouse, the company keeps a small inventory at its head office in Pembrokeshire. Given how tired that inventory was looking, Hughes and his team decided to purchase an additional T604 to begin bringing it in line with the Cardiff warehouse's standards.
"While Pembrokeshire mainly has small PAs for small events, we do call on the inventory to service events all over the UK during the usually busy summer period," said Hughes. "We took the decision to only buy T series moving forward due to its huge flexibility, hence the most recent T604 now resides in West Wales."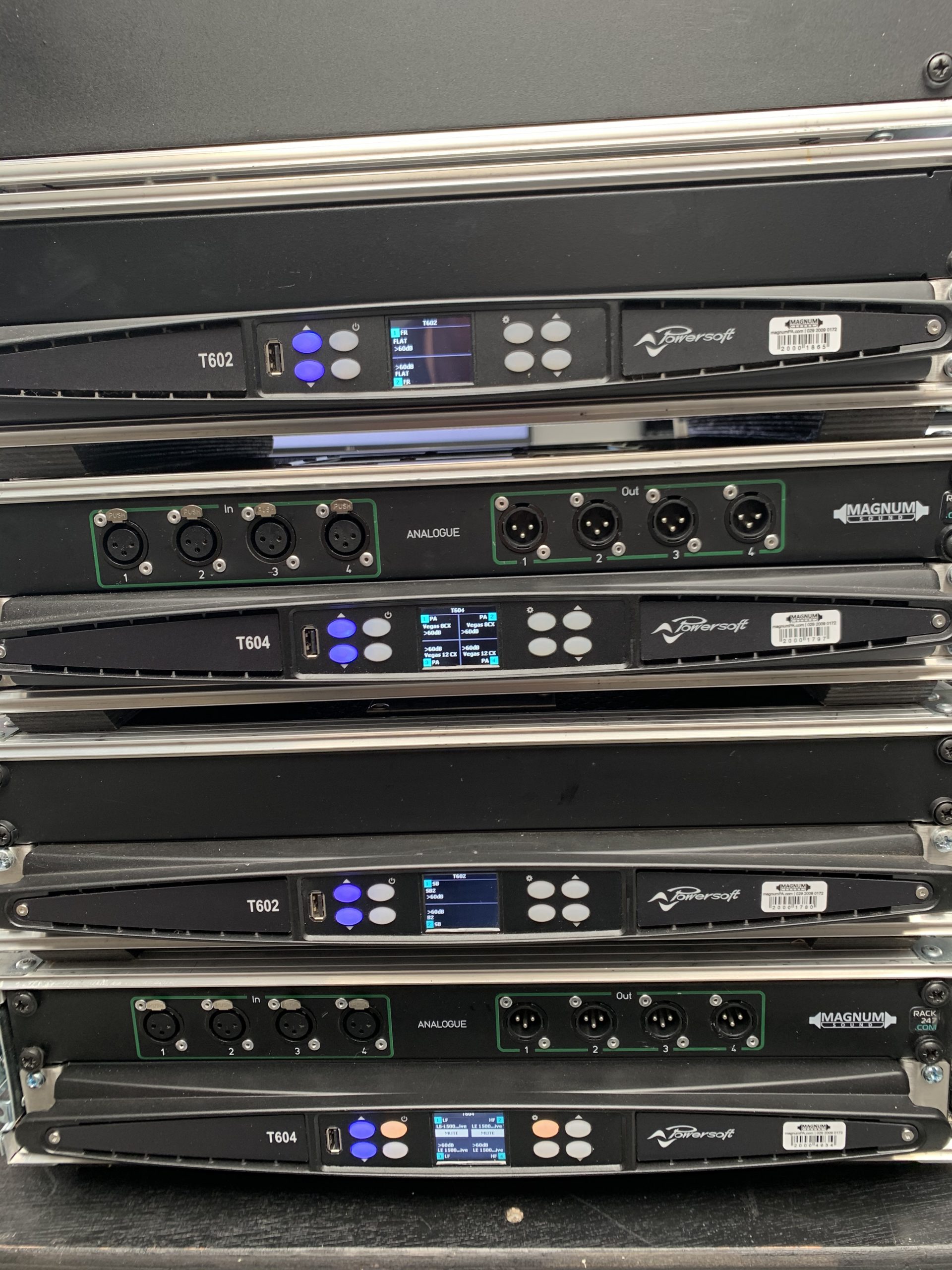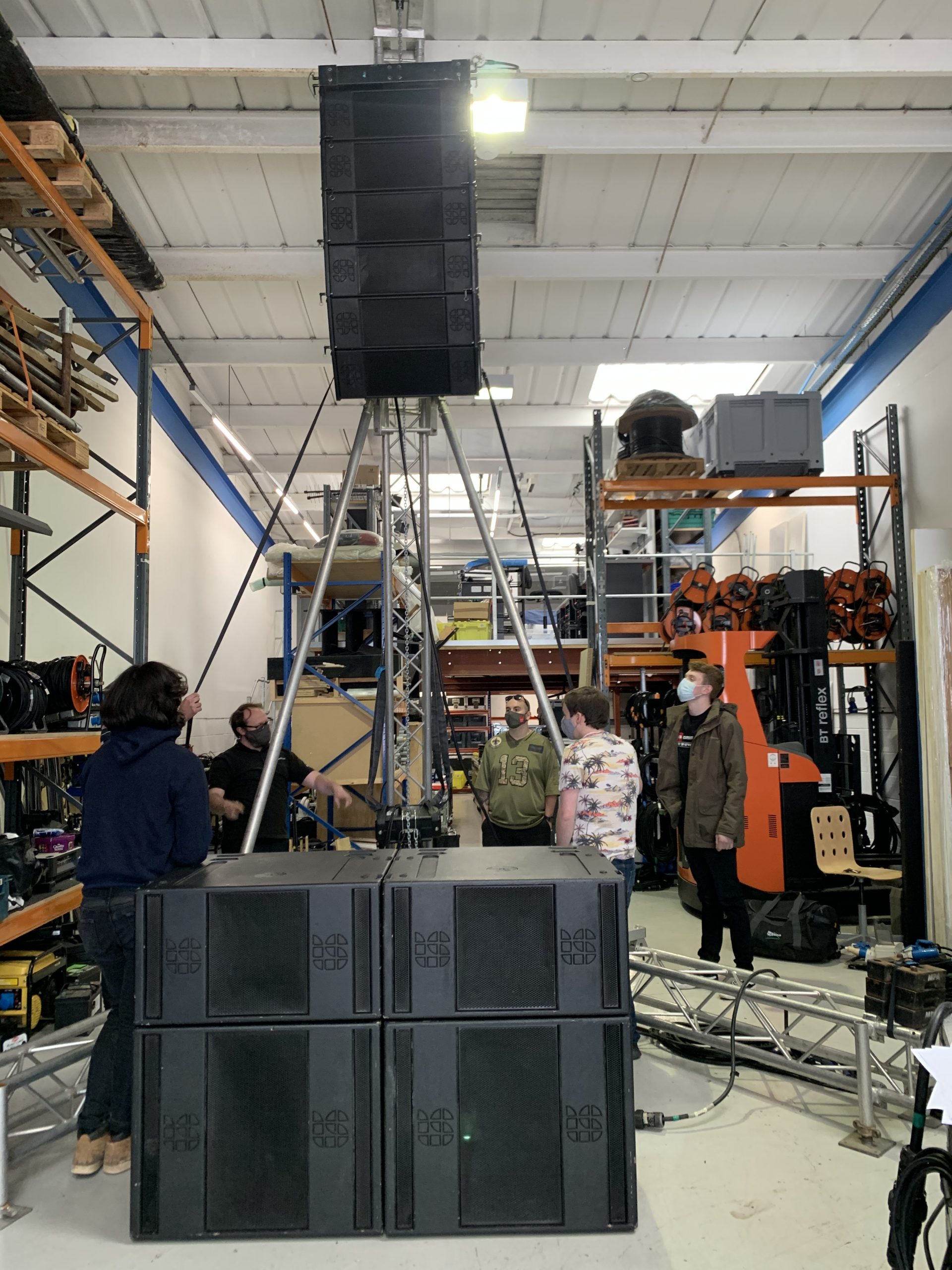 In his capacity as senior lecturer at the University of South Wales School of Engineering (Sound and Live Event Production), Hughes recently hosted a line array rigging day where he began driving the Ethos VA from the original amps, then switched to the T602s to assess the difference.  
He said: "We only managed to create a quick profile for the low end in between demos but, yet again, in an A/B comparison the T Series was astounding."
CUK's James Lawford added: "Powersoft have proved once again that, with their T Series platform, it is possible to harmonise a whole warehouse of loudspeakers to run from just a few models of amplifier. This substantially adds to the versatility of PA hire stock inventories and, as a result, return on investment."
Main image (courtesy of CUK Audio): Phillip Hughes, managing director of Magnum PA (left) / James Lawford, live sound channel manager of CUK Audio (right) 
"I believe 3WM Communications will add value to any organisation as they are able to provide a birds-eye view of what is happening in the industry and propose plans to benefit from a company's competitive advantage over competitors."
"We were quickly impressed with 3WM Communications and their international skills, their work and their dedication.
It is a real pleasure to work with them."