Petra the great: Maxin10sity maps 'Rebirth' of World Heritage Site
Featuring projection artistry by Maxin10sity, the first-ever digital transformation of the ancient 'Rose City' of Jordan wowed crowds at Petra Light Festival
Budapest (Hungary), 24th July 2023 – Spectacular visuals created by projection-mapping expert Maxin10sity shone brightly at the recent Petra Light Festival, the first-ever multimedia show at the ancient sandstone ruins of Petra in southern Jordan.
Once the capital of the Nabataeans, a Bedouin people of classical antiquity, and nicknamed 'Rose City' (a reference to the pinkish colour of the rock from which it's carved), Petra was rediscovered in the 19th century and later declared a UNESCO World Heritage Site. The city is now regarded (alongside other spectacular structures such as the Great Wall of China, Machu Picchu and the Colosseum in Rome) as one of the 'New Seven Wonders of the World'.
Combining projection art, music and narrative storytelling to bring the theme of the festival – the 'Rebirth' of the Nabataean civilisation – to life, Petra Light Festival 2023 marked the first time that local authorities had allowed the millennia-old city to be used as the canvas for a multimedia show. The festival ran from 23rd April to 3rd May, with Maxin10sity's artwork, Re-Vision, as the stand-out event – the show warping, mutating, and de- and re-constructing the face of Petra's iconic 'Treasury' (Al-Khazneh) temple in a manner that would render the city unrecognisable to its ancient occupants.
Festival organisers, represented by Jordanian artist Andrei Snobar (Andrei Visuals), first contacted Maxin10sity directly at the beginning of 2023 after seeing the company's projection content deployed to great effect on other projects, including historic buildings such as the Bolshoi Theatre, the Brandenburg Gate, Seattle's iconic space needle and, in the Middle East, the Jerusalem Light Festival and Al Wasl Plaza in Dubai. "Having seen and liked our previous projects, the organisers considered us one of their first choices from the outset," recalls Maxin10sity managing director Tamás Vaspöri, "which was a huge vote of confidence in our ability to deliver for a landmark as important as Petra."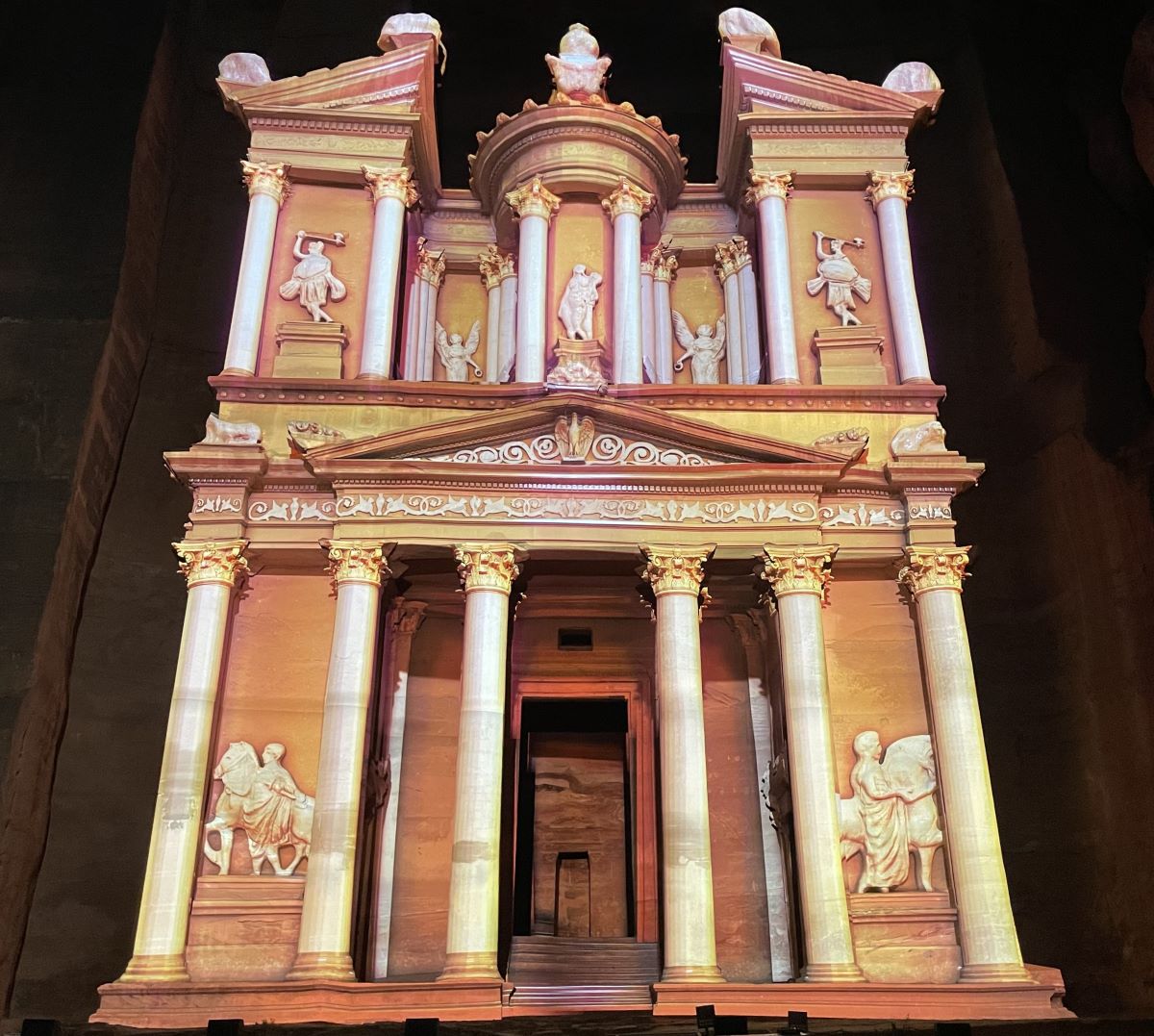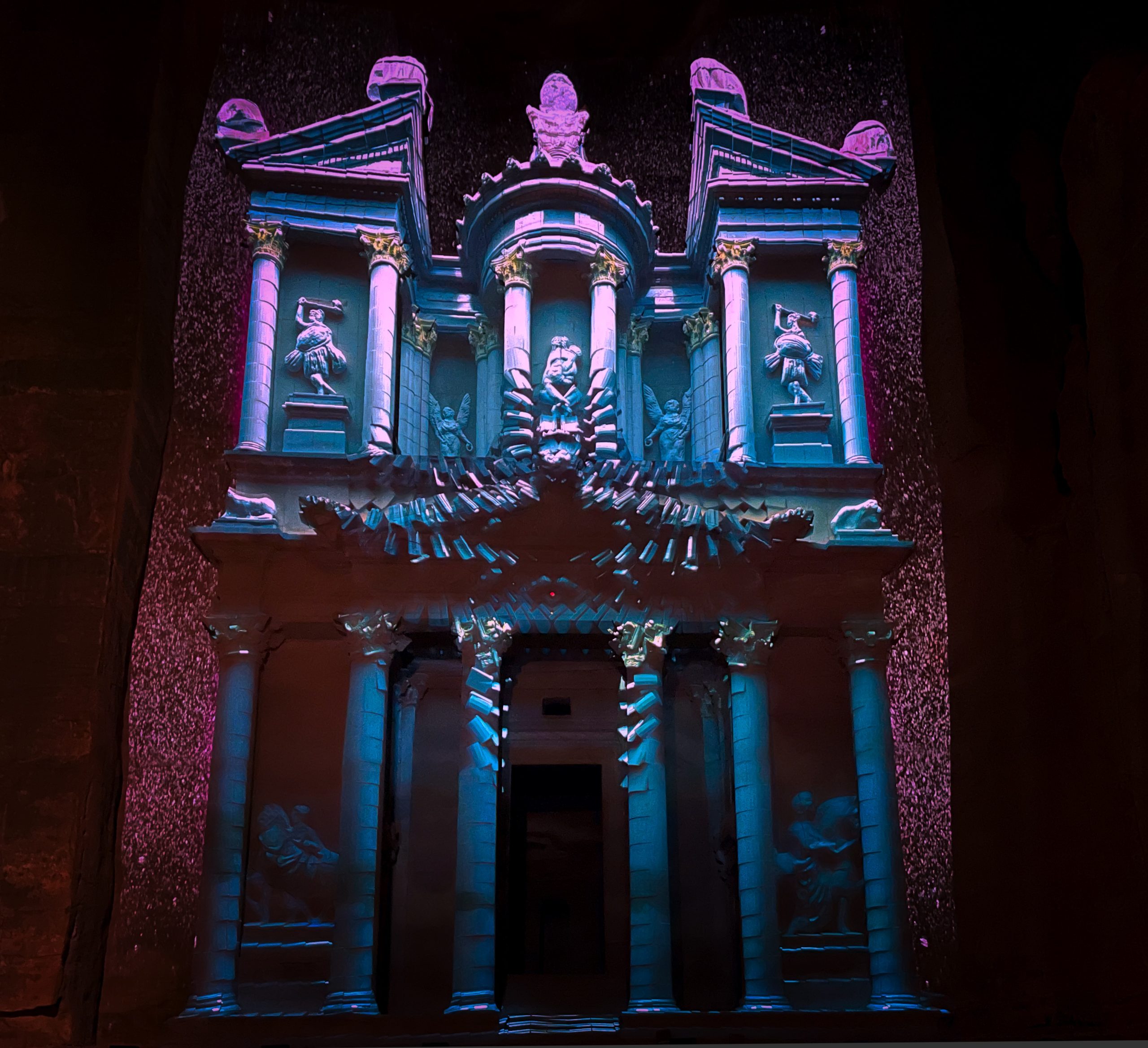 "I was thrilled when they called me about the project," Vaspöri adds. "Of course, for whatever reason some projects do not happen in the end – so I was a bit nervous, given the profile of the project and how many stakeholders were involved. But once we'd signed the contract and we found ourselves standing in front of the Treasury, all I could feel was happiness and pride."
With an open brief, the Maxin10sity team was given less than two months to make its vision for Petra a reality – a process that began in earnest with the delivery of a new, locally created 3D model of the Treasury to Maxin10sity's art director, László Czigány, who immediately began to work on the mapping set-up.
Czigány also oversaw the show's video-mapping content, as well as taking overall responsibility for the animation, with all Re-Vision artists working from Maxin10sity's template. Czigány explains the concept behind his projection-mapping work, as well as how it felt seeing his vision come to life at Petra: "As an artist, I am filled with a sense of awe and reverence as I labour over my creation, weaving together history, technology and art to breathe life into the once-lost statues of the ancient Nabataean civilisation. I see projection mapping as a way to reconnect our modern world with its historical roots.
"As I watch my work come to life, there's a thrill to witnessing the past being reborn. I feel a rush of excitement as the simple play of light and shadow transforms the barren facade of the Petra Treasury into a canvas of intricate patterns and shapes. The process of layering the animation with music is a surreal experience. The haunting yet uplifting tones lend my work a new dimension – an emotive layer which resonates deeply within me."
Given the time pressures, the Petra Treasury show used a pre-composed soundtrack, though Maxin10sity was able to add its own sound effects to the show, "which was a huge add on, especially if you were watching the show live", confirms Vaspöri.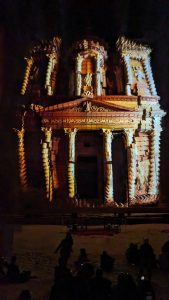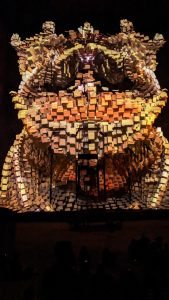 This soundtrack was delivered by six JBL SRX812 cabinets arranged in a row in front of the Treasury, while a 5m-high tower, constructed by Amman-based pro-AVL specialist RB Event Technology, housed eight 32,000 lumen Panasonic projectors (deployed in a 4 × 2 configuration) required to illuminate the historic facade. The projection mapping was rendered even more striking by the lack of light pollution in the Jordanian desert, with the complete darkness all around lending an air of unreality to the brightly illuminated rockface structure.
Accompanying Vaspöri and Czigány in Petra was Maxin10sity's creative director, András Sass, meaning all three of the company's partners were on site in Jordan. There, they were joined by the more than 10,000 people who visited Petra Light Festival – of whom less than 30% were Jordanians, testifying to the success of the Petra Development Tourism Regional Authority's bid to boost international tourism at the landmark.
Reflecting on how it feels to have its content projected on a 'New Wonder of the World', Vaspöri pays tribute to the Maxin10sity team, "former and current", whose creativity and hard work over the past nine years has helped build the company's reputation as a creator of world-class projection-mapping experiences. "A few years ago I used to think that we were lucky for being asked to do these projects, but after Petra I understand that they invite us because we are actually quite good at our work!" he says with characteristic understatement. "This makes me really proud of the whole team."
As for where Petra ranks compared to Maxin10sity's previous projects, "it is difficult to say," Vaspöri concludes, "because they all have their own little things that make us love them. But nearly every person on Earth recognises Petra, and to do a mapping experience there as a first is a momentous thing. So this one is certainly up there, for sure!"
"I believe 3WM Communications will add value to any organisation as they are able to provide a birds-eye view of what is happening in the industry and propose plans to benefit from a company's competitive advantage over competitors."
"We were quickly impressed with 3WM Communications and their international skills, their work and their dedication.
It is a real pleasure to work with them."