ST Engineering Antycip Provides Key Training Technology to Hinkley Point Construction Operators
Thanks to their new training simulator, crane operators have been able to hone their skills in extreme weather conditions without setting foot outside.
Paris (France), 11th May 2021 – Marking a significant milestone in the revitalisation of the UK's nuclear power industry, EDF Energy's Hinkley Point C (HPC) in Somerset is ready to make a major contribution to the country's move to reduce carbon emissions. The electricity generated by its two EPR's (European Pressurised Reactor) nuclear reactors alone will offset nine million tonnes of carbon dioxide emissions per year over its 60-year lifespan and provide low-carbon electricity for around six million homes.
BYLOR – a joint venture between European engineering and construction specialists Bouygues Travaux Publics and Laing O'Rourke – was contracted by EDF Energy to deliver the main civil engineering works at HPC. For this project estimated at £2.8 billion, the company will erect over 50 tower cranes, use over 230,000 tonnes of reinforcements, and 1.2 million cubic metres of concrete will be required – 75 times more than was used to build the Millennium Stadium in Cardiff. The site will also host the world's largest crane, nicknamed 'Big Carl', which is capable of reaching 165m and lift up to 5,000 tonnes.
In order to more efficiently train the construction personnel required for such an undertaking, BYLOR made the decision to install an on-site crane simulator, which was realised thanks to the partnership of ST Engineering Antycip and CM Labs Simulation Solutions.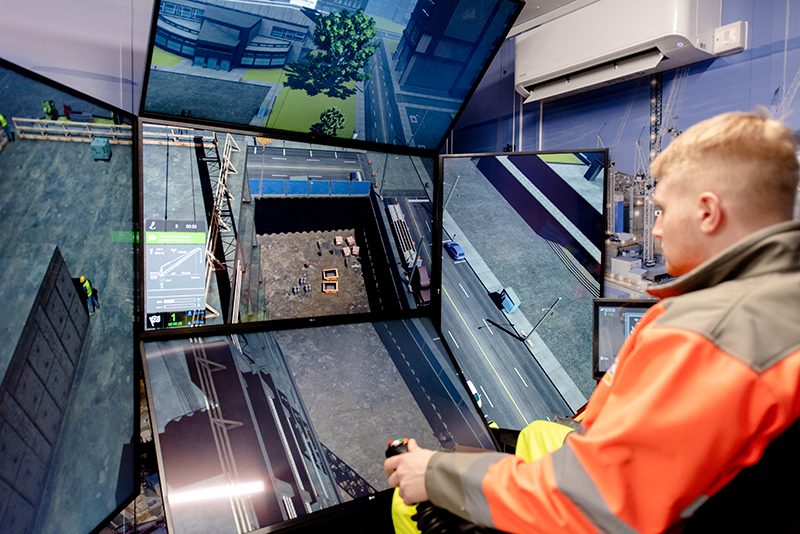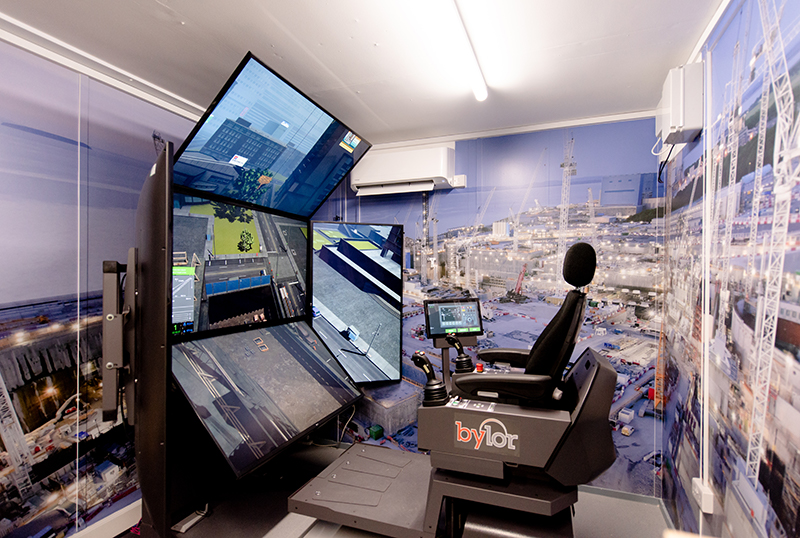 ST Engineering Antycip integrated the five CM Labs Vortex Advantage screens for the simulator, which creates a full field of view and a includes a dynamic motion platform, in order to replicate the real operator experience as closely as possible. 
"We have been working closely with Hinkley Point C and the BYLOR lifting and plant team for over two years," said Amir Khosh, commercial sales at ST Engineering Antycip. "The client wanted to ensure they can boast the most realistic simulator in the market for training operators. This was very important, as there are simulators on the market that do not replicate the actual realistic physics of lifting equipment, which could potentially lead to real world dangers. Our simulators teach transferable skills that can be applied on real equipment without risk of negative training and teaching bad habits, especially to the future of younger operators."
The simulator was installed in November 2020 at the Training School located near HPC's South Plaza and is already playing an important role in BYLOR's training and competency assessment plan for HPC lifting team members.
Operatives, slinger signallers and even interested parties like construction managers are being put through realistic crane related scenarios and tested in high winds and poor visibility conditions – all from the safety of the simulator driving seat, using controls that are exact replicas of those found in the real equipment.
There's also a separate station where a slinger signaller can give hand signals on camera to the person operating the crane to assess how well the lifting team works and communicates together even when the operator cannot see the load.
"Simulation is the perfect environment for challenging projects where training is difficult, unsafe or expensive," 
The main simulator uses its five screens and five powerful PCs to create an experience that's very immersive and realistic, operators can log the hours spent on the equipment towards official logbooks. The system can run training modules for a saddle-jib tower crane, a luffing-jib tower crane, a crawler crane, a rough-terrain mobile crane, and an overhead travelling gantry crane. 
Francois Swanepoel, BYLOR lifting lead, said: "We can set up scenarios where operators start a task in good conditions, but then we make it snow or bring down fog. We watch how they respond and talk to them about what they did. This really helps the operator to become familiar with difficult scenarios in a risk-free way." 
Swanepoel was quick to assert that the simulator is certainly "not an arcade game", and he believes that the significant investment made will prove to be money well spent for HPC.
"In the long run we'll see massive benefits in terms of avoiding potential incidents, and an improvement in each operator's ability," he said. "You simply wouldn't be able to train people to the same level if everything had to be done on the job."
"Introducing simulation alongside the actual equipment for operator training at HPC is not only a proof-of-concept project but a start to a different type of efficient and effective training in construction," said Khosh. "This technological adaptation will enhance training, taking it to the next level, just like we have witnessed in aerospace and automotive industries, who have been embracing the simulation technology for decades now."
Photos courtesy of BYLOR
"I believe 3WM Communications will add value to any organisation as they are able to provide a birds-eye view of what is happening in the industry and propose plans to benefit from a company's competitive advantage over competitors."
"We were quickly impressed with 3WM Communications and their international skills, their work and their dedication.
It is a real pleasure to work with them."