ST Engineering Antycip Technology Key to Complex Airbus Refuelling Simulator
Overhauling in-flight refuelling simulator training with highest level of realism possible.
Paris (France), 21st April 2021 – ST Engineering Antycip has reinforced its fruitful relationship with aviation giant, Airbus, by providing a comprehensive visual upgrade for one of the most complex pieces of apparatus at its Madrid headquarters: a five-screen, two-person in-flight refuelling simulator.
Although the existing system, which was developed by Airbus, already had five visual channels (two of which were in 3D), the task for ST Engineering Antycip was to update and develop the content to enhance and create more realistic image quality.
"The simulator is needed for training our air-to-air refuelling operators and mission operators," said Jesus Lapastora, Airbus Defence and Space, MRTT/M&L simulation team leader. "These kinds of operations are potentially dangerous and very complex, involving multiple aircraft, so we need to train our operators as thoroughly as possible."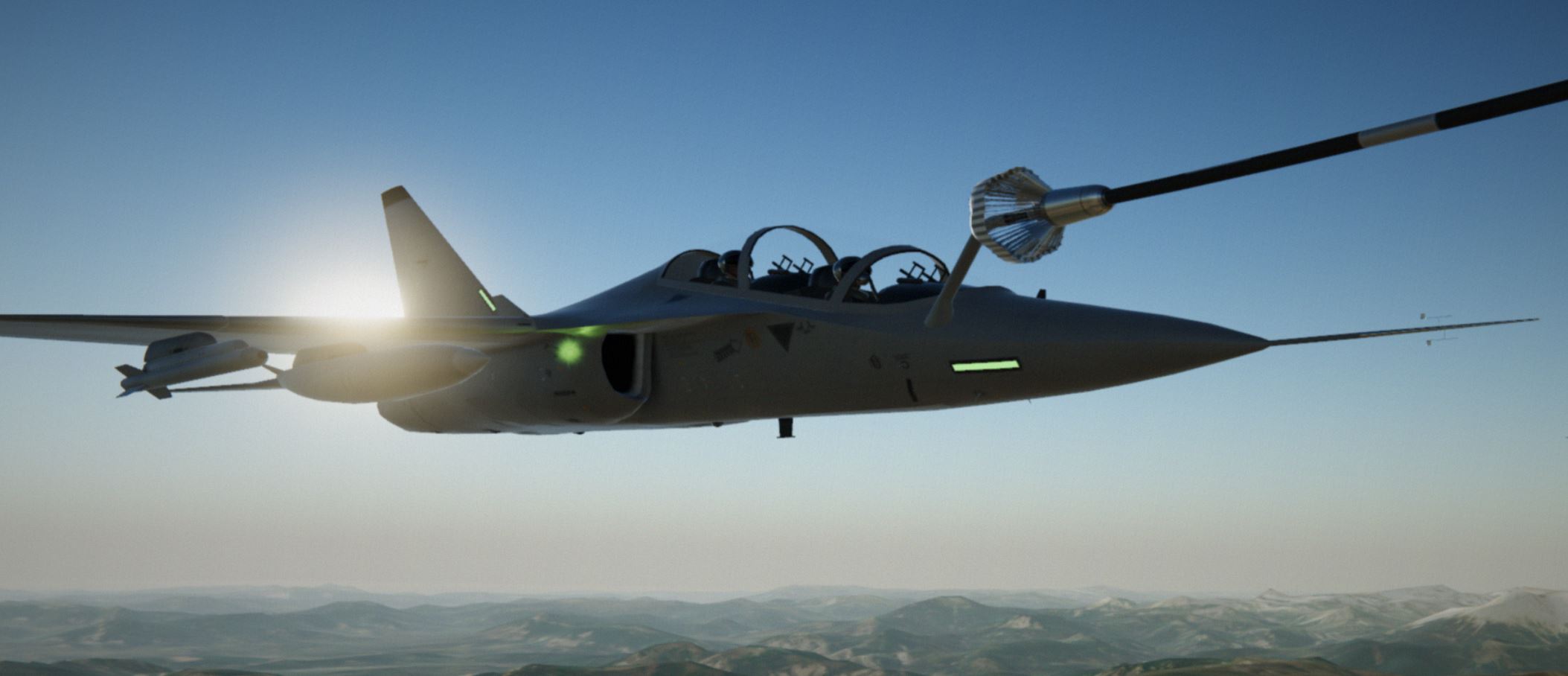 As is the case when training individuals for any such intricate and high-risk work, the level of realism that a simulator and its software can provide is key.
"The old content had been created in-house and was beginning to date a bit," said Alun Evans, technical team lead at ST Engineering Antycip. "With the creator of this content due to retire, the management at Airbus decided it was a good time to overhaul the refuelling simulator's visuals; bringing it up to date and ensuring that it would stay fit for purpose for many years to come."
Evans oversaw the integration of simulation equipment in Madrid in 2014, which was based around commercial off-the-shelf (COTS) software from US company, Diamond Visionics.
"Airbus Madrid was very pleased with the last simulator we installed which made them keen to enquire about our services again," said Evans. "We won the tender as ours is a COTS solution that didn't require as much development, which makes it more cost effective." 
Airbus Madrid was happy to keep its existing simulator hardware, so the team from ST Engineering Antycip was able to use the same outputs – two in screens in stereo 3D (one image for each eye) and three more in mono – and focus on improving the software inputs.
"We decided on a software package that would handle all of the complex requirements of the various simulations," said Evans. "MyIG, our real-time image generation software, extends the simulator's visual capabilities and improves the front end, while we use Diamond Visionics Genesis IG for visualising and loading the terrain. As well as being a much more realistic – and therefore more accurate – experience for the trainees, this new combination of software allows a much more rapid turnaround in terms of loading the terrain, which in turn lowers the overhead in development time."
ST Engineering Antycip used flight models to ensure that the various in-flight formation changes and aircraft movements were accurate, as well as developing the interface so that the simulator could communicate with the software to change the way certain things look in the visualisation.

"Refueling an aircraft mid-air is a very detailed and difficult task that requires extensive training, as people can't afford to make mistakes, so everything was undertaken to ensure that the simulations provided the highest level of realism possible with the current technology," said Evans. "Whether the participants refuel with a hose and basket method or the multi-articulated boom, the level of detail by the simulator will bring them closer to the real thing, which could ultimately help to save time, money, and even lives."
Although Evans had been able to visit Madrid in the lead-up to the project, Covid-19 restrictions meant that the majority of the work had to be done remotely.
"We would have liked to get on site a bit more, of course, but kudos to the strong engineering and tech teams at Airbus, all of our work was done electronically. They understood what they had to do and they understood what we were providing for them, so the restrictions did not derail the project." 
Lapastora commented: "We are incredibly satisfied with the result, and because of that, other customers are now interested. I am so happy with the result of ST Engineering Antycip's work on this project, and in fact, they are already assisting us with a new generation of our Smart Tanker simulation, which includes thermal cameras and automatic air-to-air refuelling operations."
"We are extremely proud of this project with Airbus which further strengthens our long-standing partnership with them," concluded ST Engineering Antycip's France and Spain director Johan Besnainou.
"I believe 3WM Communications will add value to any organisation as they are able to provide a birds-eye view of what is happening in the industry and propose plans to benefit from a company's competitive advantage over competitors."
"We were quickly impressed with 3WM Communications and their international skills, their work and their dedication.
It is a real pleasure to work with them."